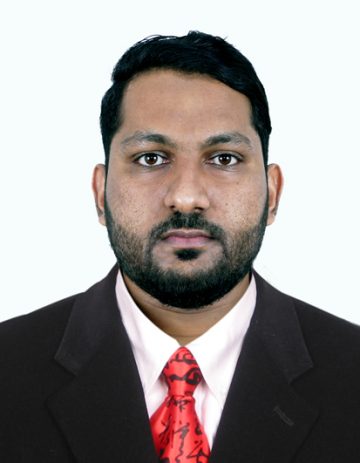 Accountant
Location: Kerala
Executive summary
8 months experience as an office administrator in ASAK Group of companies.
3 years' experience as an Accounting Assistant& Representative of Management in Doha-Qatar.
2 years' experience as a Salesman in India.
innovative and looking ahead to work in a challenging environment and strive for excellence.
A Dedicated well-experienced candidate having good knowledge in the accounting and business world and have a true and responsible mind.
 To be a member of an organization where growth and prospectus are unlimited, and an individual is recognized by his work
To work in a stimulating environment where I can enhance my knowledge and utilize my potential to the best of my ability in conjunction with the company's goals and objectives.
WORK EXPERIENCE
ASAK GROUP OF COMPANIES DOHA QATAR
Office Administrator (04/04/2019 – 11/11/2019).
Preparing and processing of sales orders as per salesman's    requirements.
Generation of reports related to sales.
Following all products sales return.
Submitting daily report to direct manager regarding order, order confirmation, quantity received and differences, market wise & product wise sales, sales return.
Acting as mediator between salesman and production department.
Preparing letters and emails related to sales department (internal and external).
Attendance monitoring of staffs.
Communicating with departments like production, finance, HR, IT etc. for matters related to sales department
DIANA JEWELLERY & WATCHES DOHA-QATAR
Accounting Assistant &Representative of Management
(03/2016 –03/2019)
Preparing cash statement, stock list and stock report
Entering transactions like bills, cash and card advances, payment and receipt
Keeping cash book, stock book, receipt and payment vouchers, other sales and also managing the staff
 Purchasing gold bars and jewelry from suppliers
 Payment to suppliers through cash or Gold
Maintaining rules and regulations & following instructions from the company management.                                                                                                                                                                                    POPPY FANCY STORE POPPY FANCY STORE
(KERALA – INDIA)  Sales Man  (04/2010 – 05/2012)
Greet customers & giving assistance to the customer
Giving valued information to customer about the product
Maintaining customer satisfaction
Trained new staff that assigned  area
Packaging item and making bill
Checking daily moving items and giving report to the owner
ACADEMIC QUALIFICATION
Graduation           :     B Com with Co Operation
HSE                      :    Commerce
SSLC                    :    Board of Public Examination GOVT of Kerala
COMPUTER SKILL
Tally ERP 9
Microsoft Office
Win gold Jeweler software
LANGUAGES KNOWN
English
Hindi
Malayalam
PERSONAL PROFILE
Father: Abdul Rahman
Mother: Soudath
Sex: Male
Marital Status: Married
Nationality: Indian
Passport No: J8769884
D O B:  12 Nov 1991
STRENGTHS
Positive Attitude
•           Quick learner
•           Result oriented
•           Excellent Communication
•           Ability to work under pressure
DECLARATION
I hereby declare that the information and facts stated above are true and Hardworking and correct to the best of knowledge and belief.
ARSHAD RAHMAN P
Education
2014

B.COM at KANNUR UNIVERSITY

B.com with Co-Operation
Experience
04-04-2019/11-11-2019

Office Administrator at ASAK GROUP OF COMPANIES

03-2016/03-2019

Accounting Assistant &Representative of Management at DIANA JEWELLERY AND WATCHES
Accounting/Finance, Administration, Sales/Marketing
Updated 2 years ago
Only Employers can view Contact Details. Request Access