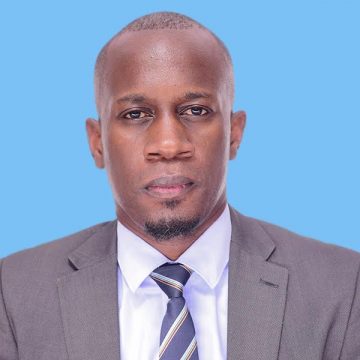 Customer Service Agent
Location: Doha, Qatar
CURRICULUM VITAE
PERSONAL DETAILS
Name : Benson Onsare Ratemo
Date of birth : 9th Sept 1982
Marital status : Single
Gender : Male
Nationality : Kenyan
Religion : Christian
Height : 5'8 Fts
Passport no : AK0908698
Date of Issue : 13th April 2021
Expiry Date : 12th April 2031
Languages : English, Swahili
Email : benratemo4@gmail.com

CAREER OBJECTIVES
Looking forward to a challenging career in a multicultural environment where I can fully utilize, enhance and strengthen my skills in exploring newer dimensions of human excellence to achieve greater heights in humanity through adding value to the organization. This is in line with my employers vision, mission and organization goals
STATEMENT OF ABILITY
 Able to adopt easily and work under any environment
 Able to learn and work independently under pressure and make independent judgment
 Able to make timely and well considered decision based on the HR Best practice and corporate business
 Open minded person with very good organization skills
 Good team player and communication skills
EDUCATION BACKGROUND
2010-2015
University of Nairobi
Master in Business Administration (International Business)
2002-2006
Kenyatta University
Bachelor of Science (Mathematics)
1997-2000
Nakuru Day Secondary School
Kenya Certificate of Secondary Education
WORKING EXPERIENCE
Jan 2017- Dec 2020
ABSA Bank Kenya PLC
Position: Credit Analyst
Duties & Responsibilities
 Scrutinize securities being offered against Bank Borrowings confirming adequacy and conformity to the terms of lending.
 Ensures proper execution of facility letters, agreements, discharge documents and security documents in accordance with the banking Statutory Acts.
 Confirm that the security offered is properly registered and the Bank's interest is adequately reserved at the Land and companies Registries.
 Confirm correct security documents are submitted and charge documents are drawn and stamped in accordance with the Stamp Duty Act.
 Undertake communication levels with lawyers and lending teams regarding security perfection matters.
 Responsible for accurate capturing of securities documents in the credit systems and confirming the same before marking limits.
Dec 2020 – Dec 2016
Barclays Bank Kenya Ltd Position: Customer Service Supervisor
Duties & Responsibilities
 Provide splendid customer services to customers in a friendly and courteous manner at all times
 Improve customers' banking experience with the bank by ensuring that the customers are attended to promptly and all their challenges are resolved without delay
 Provide assistance to all other members of staff in other departments of the bank by liaising with them through healthy interactions
 Establish and promote cordial relationship with customers, ensuring prompt attendance to their inquiries and solving their problems to grant them maximum satisfaction
 Continuously update skill by participating in professional trainings, go for courses as instructed by management and be willing to contribute acquired knowledge to the development of the back.
 Provide information to customers on their account status and account balances
 Open new bank accounts according to laid down rules and guidelines
 Suggest effective ways through which the bank can promote its products and services and increase customer satisfaction

HOBBIES
 Travelling
 Nature walks
 Sports
 Adventure
Education
Start 09/09/2010 End 04/12/2015

Masters in Business Administration at University of Nairobi
Experience
Start 05/12/2010 End 31/12/2016

Customer Service Supervisor at Barclays Bank of Kenya Limited

Start 01/01/2017 End 31/12/2020

Credit Analyst at Absa Bank Kenya PLC
Accounting/Finance, Administration, Hospitality/Facilities
Updated 12 months ago
Only Employers can view Contact Details. Request Access