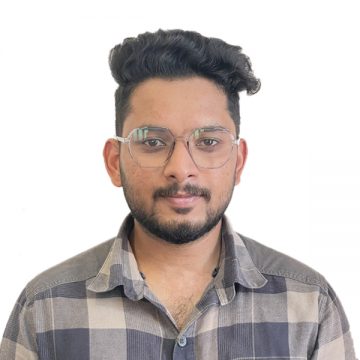 videographer
Location: Doha
PROFILE
Well-experienced, passionate Videographer with a creative
eye for stories. Committed to delivering promised results, and
remaining true to a unique artistic vision who brings exceptional
knowledge and enthusiasm to every shoot. Proficient in
Adobe Premiere Pro and Final Cut Pro. Achieved an Official
selection in First-Time Filmmaker Festival 2019.
WORK EXPERIENCE
01.06.2018 – 31.08.2018
Videograher Trainee at Beacon Television, Mumbai, India.
*Trained under a great human being who creates content
for poor children who cannot afford school.
*Sorted and edited hours of footage everyday
03.11.2018 – 03.01.2019
Videographer Trainee at Barq Media Production, Sharjah, UAE.
*Trained under a well known cinematographer in the country
*Worked on major projects for governments all around the
country.
*Had the opportunity to use various equipments like
Canon 5D iii and Canon C100 ii.
04.01.2019 – 31.10.2019
Freelance Videographer in Dubai.
*Filmed variety of projects such as Real-estate, Coffee shops
and Short-films.
*Had the previlage to work with huge clients such as
Meeras Dubai.
*Took on challenges such as shoot and edit a 1 minute video
under 1 hour.
01.12.2019 – 31.10.2021
Videographer at Web Task Force, Kochi, India.
*Had the opportunities to closely work with highly talented
Directors on variety of projects such as Archetechture,
Transformation videos, Wedding and Corporate videos.
*Extensive experience in Pre-production, production and
post-production.
*Have been able to use variety of equipmets like Sony A7iii,
Sony A7sii, Blackmagic pocket cinema camera 4k & 6k,
Canon EOS R5, Panasonic Lumix GH5.
Education
2013/2017

B.A Graphic design and multimedia at University Of Sharjah

2017/2018

P.G Diploma in Film making at Media One Academy
Experience
2018/2019

content creator at freelance

2019/2021

videographer at Web Task Force Studios
Film/Media
Updated 11 months ago
Only Employers can view Contact Details. Request Access